---
Introduction
---
---
On 15 August 1921, Benjamin Ernest Wilson and his wife, Mary Catherine (Smoyer) Wilson, set out on what would turn into a 13-month-long road trip across the United States. Starting at their home on Beebe Road in Wilson, Niagara County, NY, USA, they traveled through Pennsylvania, Ohio, Indiana, Illinois, Missouri, Kansas, Oklahoma, Texas, New Mexico, Arizona, and California on their way to Los Angeles, California, where they spent most of the winter of 1921-1922 with the family of Ben's half-brother, Stephen Melvin Wilson. In the spring, they traveled up through the central part of California, on their way to Yosemite National Park, San Francisco, Oregon, and Washington. Turning homeward, they traveled through Idaho and Montana to Yellowstone National Park, and then hit Wyoming and Colorado on their way to Oklahoma, Missouri, Kansas, Illinois, Michigan, and Canada before making a mad dash across the Niagara River and back home. They visited relatives, friends, and former neighbors; camped out in municipal camp grounds, national parks, livestock pastures, beside the road, and in people's yards and barns; saw several units of the relatively new National Park System; made new friends; swam in the Pacific Ocean; and gathered exotic "things" to send home for their own enjoyment and for the education of their grandchildren, Mary Elizabeth Cook, Benjamin "Russell" Cook, Fern Eleanor Cook, and Dennis "Wilfred" Cook.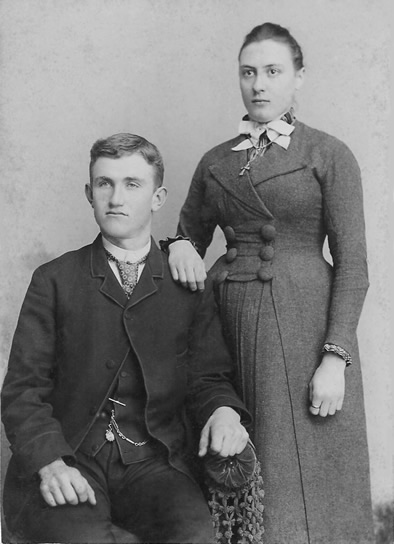 Benjamin Ernest "Ben" Wilson and Mary Catherine (Smoyer) Wilson on their wedding day, 3 Apr 1888.
On the outbound trip from Wilson, NY, to Los Angeles, CA, Ben and Mary traveled with Ben's nephew, William Ephraim Campbell, and his wife, Juanita (Painter) Campbell.
William Ephraim "Bill" Campbell
About 1919

Juanita (Painter) Campbell
About 1919
Bill was the son of Ben's half-sister, Ruth "Lamira" (Wilson) Campbell and her husband, George Colin Campbell, who lived in Missouri.
Bill and Juanita had been living in Akron, OH, and were apparently visiting in New York. It is not clear whether Bill and Juanita had just decided to move to California, or whether they had already been there and had found a place to live. In any event, when the two couples arrived in Los Angeles, Bill and Juanita stayed there.
Ben and Mary continued alone on their journey up the West Coast and across the Western states, before stopping again in Missouri. In Missouri, one of Ben's half-brothers, William Tappen Wilson, decided to go back to New York with them, after an absence of 48 years, and traveled with them the rest of the way through Illinois, Michigan, and Canada.
Mary kept a journal of their trip. She also wrote many cards and letters home. Ben also wrote home, although usually when Mary scolded him into doing so. The cards and letters that have been preserved were written primarily to Ben and Mary's daughter, Florence May (Wilson) Cook, but also to their son-in-law, William Harley Cook, and their four grandchildren.
For his part, Ben was an early "shutter-bug," and took many photographs, making what amounts to a photo journal of the trip. They labeled the copies of the photographs they sent home during the trip. Those photographs were preserved and found during the restoration of their home in 2010. The "Journal" that is presented here is a transcription of Mary's journal, and Mary and Ben's cards and letters. It is illustrated with Ben's photographs - most of them scanned from the original 122 mm negatives because those scans turned out better than scans of the prints. The journal is also annotated with information about, and additional photographs of, people they visited, places they saw, and things they did. The route they took is approximated with maps from www.mapquest.com.
This is still very much a work in progress. Please forgive the unfinished parts you will find. And please let us know about any errors you find.
---